Links Medical Products
Regular price
Sale price
$104.99
Unit price
per
Sale
Sold out
The Silent Knight has long been a significant and highly trusted system component in medication management. Long term care facilities and hospitals in the United States and around the world use the Silent Knight everyday. Thousands of healthcare professionals and tens of thousands of patients have benefited from the performance of this widely
used device.
Limited Lifetime Warranty
 The Silent Knight is guaranteed for life to be free of materials and parts defects. If the unit fails due to parts failure it will be replaced by Links Medical at no charge to the owner.
Medications should never be crushed without the approval of a pharmacist and the express written order of a physician.
Three easy steps: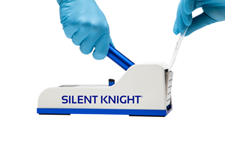 Step 1. Place pill(s) into Silent Knight Pill Crusher Pouch. Lift handle and place pouch down between the crusher plates to initiate crushing.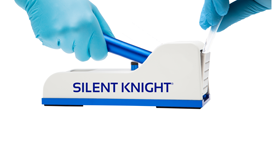 Step 2. Press handle down to crush pill(s). Lift handle and pull pouch upward to half way up the crusher plates.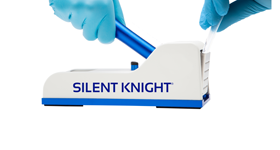 Step 3. Then press the handle down to activate grinding movement. Press handle down several times to grind pill(s) into fine powder. Repeat if needed. Then remove the pouch and add the medication to an appropriate serving medium for administration.
Share
View full details