Abbott
Regular price
$0.00
Sale price
$22.62
Unit price
per
Sale
Sold out
Specialized high-calorie nutrition with a unique carbohydrate blend for enhanced glycemic control.* GLUCERNA 1.5 CAL is a calorically dense formula that has CarbSteady®, a unique blend of carbohydrates, including slowly digestible carbohydrate clinically shown to help minimize blood glucose response.1
For patients with type 1 or type 2 diabetes.
For patients with hyperglycemia/abnormal glucose tolerance resulting from metabolic stress, such as illness, trauma, and infection.
For tube or oral feeding.
For supplemental or sole-source nutrition.
Use under medical supervision.
* Compared to a standard formula.
FEATURES
GLUCERNA 1.5 CAL contains a unique slowly digested carbohydrate blend clinically shown to blunt postprandial glycemic response and improve glycemic variability.1,2
At 1.5 Cal/mL, patient needs can be met with less volume.
22% of calories from protein to promote anabolism and support wound healing.
Includes 10 g/L of NutraFlora® scFOS® (2.4 g/8 fl oz).
3% of total calories from saturated fatty acids and rich in monounsaturated fatty acids and polyunsaturated fatty acids, consistent with the American Heart Association and American Diabetes Association guidelines.3,4
Provides plant-based omega-3 fatty acids from canola oil (3 g of ALA per 1500 Cal), to support cardiovascular health.4
Chromium picolinate, a more bioavailable form of chromium. Chromium is an essential nutrient important for carbohydrate metabolism.
1500 Cal provide at least 100% of the DVs for 24 key vitamins and minerals.
Halal.
Kosher.
Gluten-free.
Suitable for lactose intolerance.
Once opened, cover, refrigerate and use within 48 hours
For Use with Enteral Feeding Set:
Remove the dust cover from the Abbott RTH Safety Screw Cap.
Remove the dust cover from the safety connector on the feeding set.
Insert the safety connector into the port on the Abbott RTH Safety Screw Cap, completely pierce foil.
Turn the safety connector clockwise until it is securely fastened.
Close clamp on set before inverting container.
Invert container and suspend, using the hanging ring on the bottom of the container.
Unless a shorter hang time is specified by the set manufacturer, hang product for up to 48 hours after initial connection when clean
technique and only one new set are used. Otherwise hang for no more than 24 hours
Share
View full details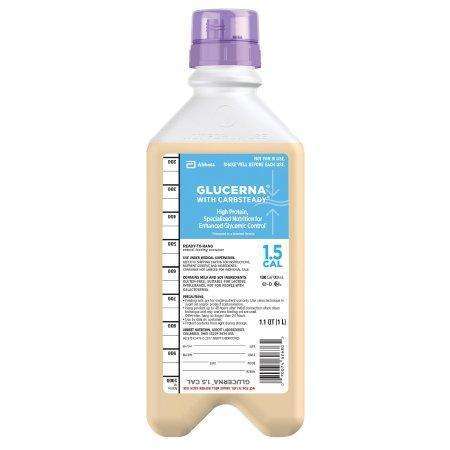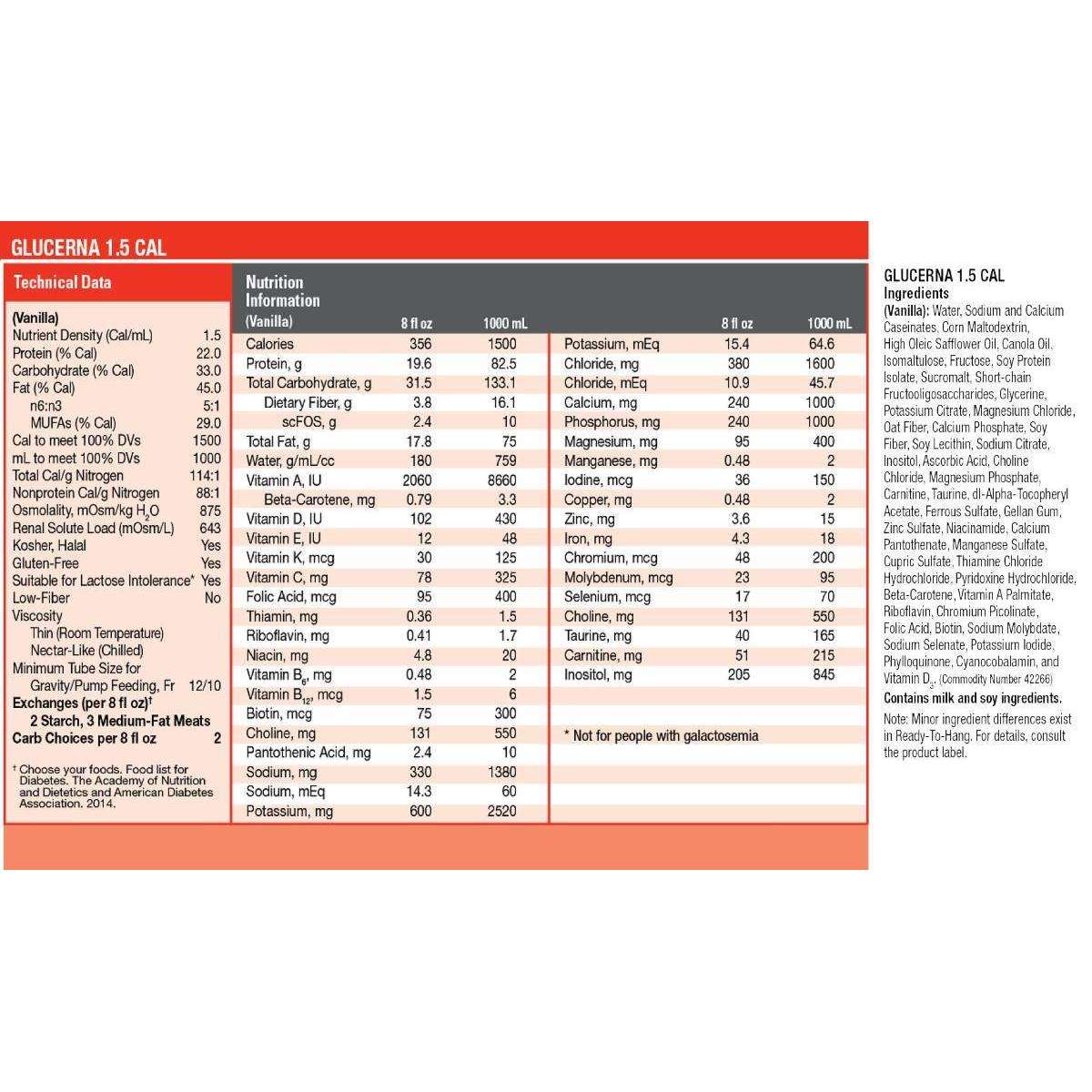 Glucerna 1.5
Super fast free shipping!