Abbott
Regular price
Sale price
$76.73
Unit price
per
Sale
Sold out
Order 2 cases or more! Use code "2TIMES" to get $5 off each case.
Thanks for signing up for restock notifications!
There was an error signing up for restock notifications. Please try again.
Sign up for restock notifications
Ensure Plus and Boost Plus are the recommended substitutes during any outage.
Maintain and rebuild muscle with Ensure Enlive.
Ensure Enlive is the first and only complete, balanced nutrition shake that has the unique ingredient HMB, plus 20 grams of protein, to help rebuild muscle for strength* and energy. Every ready-to-drink shake has:
Unique ingredient, HMB and 20 grams of protein
26 essential vitamins and minerals
350 nutritious calories
3 grams of fiber
All-in-One blend to support your health: Muscle, Heart, Immune, Digestion, and Bone
Advanced nutrition that has HMB + 20 grams of protein to help rebuild muscle
We can lose muscle as we age.
Up to 8% muscle loss each decade after age 40.
Many people can feel weaker and less like themselves as they age. This can be due to a natural process of progressive muscle loss that may begin after age 40. And it can accelerate if you're suffering from illness or injury. Without strength and energy, it might be hard to feel like yourself, to stay independent and to keep doing the things you love.
HMB (β-Hydroxy β-Methylbutyrate) is a compound found in small amounts in your body and in certain foods. It can help stop muscle deterioration while protein can help rebuild muscle.
It's difficult to get enough HMB in your diet, but two servings of Ensure® Enlive® daily provides a recommended level of HMB and 40g protein to help you:
Regain strength and energy
Remain active and independent
Maintain lean body mass for strength and mobility
Support recovery from illness, injury and surgery
Share
View full details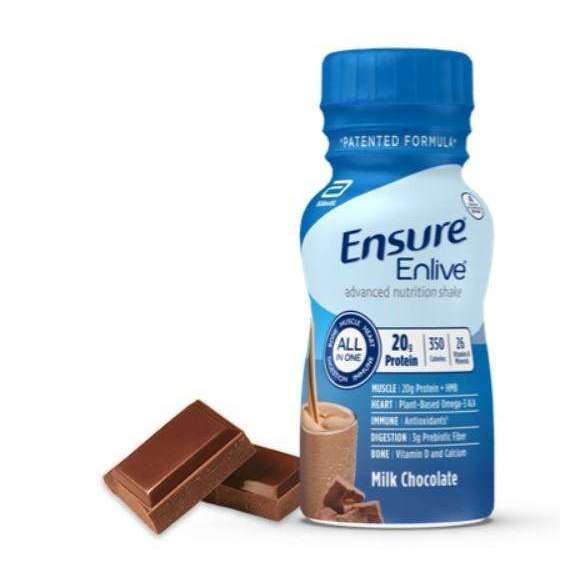 Keeping me healthy
Since drinking Ensure Enlive I have been able to gain weight that was much needed. I also am feeling much better.
Ensure Enlive 64281, Strawberry 8 oz. bottle cs/24
It is a good product work for me because I have chronic aniexty and depression and other illnesses caused me to lose my appetite and ensurelive help me replace when I don't eat and give me me a appetite, so it is a wonderful product.
I tried the rest + am sticking w/ the best
ensure enlive vanilla is my choice of dietary supplement because of its flavor.